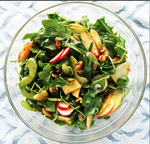 Winter Salad with Balsamic Honey Mustard Dressing
Ingredients
For the Salad:
2 packed cups arugula
2 celery sticks (about 1 cup), thinly sliced on the diagonal
4 radishes (about ½ cup), thinly sliced
1 apple, cored and thinly sliced
¼ cup gouda (or any cheese), sliced (or grated)
½ cup toasted walnuts, roughly chopped
For the dressing:
3 tbsp Rosemary extra virgin olive oil
1½ tbsp pure honey
1 tbsp honey dijon mustard
1 tbsp Traditionale balsamic vinegar
pinch of salt and pepper
Instructions:
In a small bowl, whisk together the dressing ingredients until well combined. Taste and adjust the dressing to your preference. Set aside.
In a large bowl, combine the salad ingredients and then drizzle the desired amount of dressing on top. Toss to combine. Serve immediately.
Enjoy!