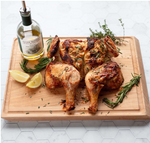 Roasted Spatchcock Chicken with Herb Butter
Preparation: 10 minutes
Cook time: 45 minutes
Serves 4
Ingredients:
3 tablespoons, plus 1 teaspoon

 

Seven Barrels Rosemary Extra Virgin Olive Oil
2 tablespoons softened butter
1 tablespoon fresh lemon juice
1 tablespoon chopped fresh parsley
2 teaspoons chopped fresh rosemary
1 teaspoon freshly grated black pepper
1 whole chicken (3-4 pounds), backbone removed
2 teaspoons kosher salt
Instructions:
Preheat the oven to 450 degrees.
Combine 3 tablespoons of the olive oil, butter, lemon juice, parsley, rosemary, and black pepper in a small bowl.
Separate the chicken skin from the breast and thighs and rub the butter mixture under the skin with your hands. Sprinkle the salt on both sides of the chicken.
Coat the bottom of a large (12-inch) heavy or cast iron skillet with the remaining tablespoon olive oil. Put the chicken skin side down in the pan.
Roast the chicken 25 minutes, then remove from the oven. Careful flip the chicken over with a spatula to avoid tearing the skin. Continue roasting for 20-25 minutes, until the skin is a rich golden brown the juices run clear. The internal temperature should register 165 degrees.
Let the chicken rest on a cutting board for 10-15 minutes. Carve into pieces and serve.
Enjoy!