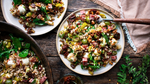 Ingredients:
Sun-Dried Tomato Vinaigrette

1 tsp lemon zest

3 tbsp lemon juice

1 tbsp honey

4 garlic cloves, grated

½ tsp red pepper flakes

1 (8.5 oz) jar sun-dried tomatoes in olive oil

¼ cup tuscan herb extra virgin olive oil

1/8 cup white balsamic vinegar

1 tbsp chopped fresh parsley

1 tbsp chopped fresh oregano

kosher salt

Antipasto Farro Salad

1 ½ cups farro, rinsed

tuscan herb extra virgin olive oil

½ cup roughly chopped walnuts

1 fennel bulb, cored + diced

4 cups arugula

8 oz "ciliegine" fresh mozzarella, drained

¾ cup halved castelvetrano olives

¾ cup quartered artichokes

½ cup diced sopressata

½ cup sliced pepperoncini or banana peppers
Instructions:
For the sun-dried tomato vinaigrette: combine the lemon zest, lemon juice, honey, garlic, and red pepper flakes in a mixing bowl. Whisk to combine. Drizzle in the olive oil from the sun-dried tomato jar plus the ¼ cup of olive oil, and the white balsamic vinegar, whisking continuously. Dice the sun-dried tomatoes. Stir them in, along with the parsley and oregano. Season with salt to taste.

For the salad: bring a 4-5qt pot of salted water to a boil. Add the farro. Bring the water back to a boil, reduce the heat to medium, and gently boil the farro for 25 minutes. Drain the farro and spread it onto a parchment-lined sheet pan (or other large surface) to cool.

Meanwhile, heat a 12" skillet over medium heat. Add enough olive oil to coat the bottom. Once hot, add the walnuts. Toast for a minute or so until golden and fragrant. Season with a pinch of salt. Transfer the walnuts to a plate.

Wipe out the skillet and return it to medium heat. Add another layer of olive oil. Add the diced fennel. Cook for 5 minutes, stirring often. Reduce the heat to low and finish cooking for another 3 minutes or so until tender. Season with a pinch of salt.

Combine the farro, walnuts, fennel, arugula, fresh mozzarella, olives, artichokes, sopressata, pepperoncini, and half of the vinaigrette in a large mixing bowl. Toss to combine. Arrange the salad in a large serving dish and drizzle the remaining vinaigrette over top. Garnish with any extra fresh herbs or fennel fronds.
Enjoy!