Pairs Well With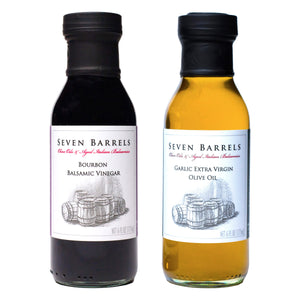 Bourbon Balsamic Vinegar and Garlic Extra Virgin Olive Oil
Shop Now
On Sale
Traditionale Balsamic Vinegar & Tuscan Herb Extra Virgin Olive Oil Pairing
Life Never Tasted better!
This combo is as Italian as Italian gets. Our barrel-aged Traditionale is handcrafted using the time-honored Italian process discovered over one thousand years ago in Modena. Our Tuscan Herb EVOO tastes like the secret to all homemade Italian cooking. Together, buttery and perfectly balanced between sweet and sour, this pairing is what bread dreams to be dipped in. Add a few twists of freshly ground pepper and grated Parmesan, and you'll want to take a dip yourself.

Gourmet Aged Balsamic Vinegar | Modena, ITALY | Aged 25 Years
Gourmet Infused Extra Virgin Olive Oil | Napa Valley, California
All Natural, No Artificial flavors or additional ingredients.
GLUTEN-FREE and VEGAN
FREE SHIPPING on All Orders over $59.00 USD
INGREDIENTS- 
Traditionale Balsamic Vinegar: Balsamic Vinegar (Wine Vinegar, Cooked Grape Must, Concentrated Grape Must, Sugar) (Acidity 4.5%) *Contains naturally occurring sulfites.
Tuscan Herb Extra Virgin Olive Oil: Cold-Pressed Extra Virgin Olive Oil, Rosemary Oil, Garlic Oil, Basil Oil.
*This product is made in a facility that also processes nuts, oils, soy & dairy.
Featured Recipe: Autumn Kale & Butternut Squash Salad
Featured Recipe: Pan-Seared Sea Bass
Recipes
Original Seven Barrels recipes featuring Seven Barrels Extra Virgin Olive Oil, and Balsamic Vinegar. Visit our recipes page to see all of our artisan crafted recipes.