Pairs Well With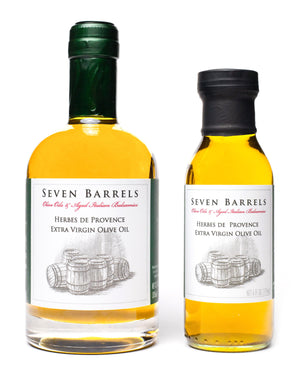 Herbes de Provence Extra Virgin Olive Oil
Shop Now
On Sale
Red Apple Balsamic Vinegar

Life Never Tasted better!
Imagine the sweet and refreshing taste of a crisp fall apple combined with rich, aged balsamic. Seven Barrels combines these two flavor favorites into delicious Red Apple balsamic made from the freshest ingredients and ready to pair with our Miller's Blend Extra Virgin Olive Oil – perfect over a green salad or drizzled over a pork roast.
Gourmet Aged Balsamic Vinegar | Modena, ITALY
AGED FOR 25 YEARS
All Natural, No Artificial flavors or additional ingredients.
GLUTEN-FREE and VEGAN
FREE SHIPPING on All Orders over $59.00 USD
TASTE-
The taste is balanced between sweet and sour. Low acidity and sweet in flavor, apple notes and balsamic aromas are evident creating a delicate and enveloping palette bringing sophistication to any dish.
LOOK-
Balsamic is clear and shiny, dark amber in color. Homogeneous and without deposits, and of high density. When poured produces a thick and balanced texture that adds volume to soups, salads, and dipping sauces.
SMELL-
Sweet and spicy aroma. Aromas of wood, grape, and apple. Revealing a fragrant and rich smell that is intoxicating and full.
Balsamic Vinegar (Wine Vinegar, Cooked Grape Must, Concentrated Grape Must, Sugar) Apple Juice Concentrate, Natural Red Apple Flavor.
*This product is made in a facility that also processes nuts, oils, soy & dairy. 
*Contains naturally occurring sulfites.
Recipes
Original Seven Barrels recipes featuring Seven Barrels Extra Virgin Olive Oil, and Balsamic Vinegar. Visit our recipes page to see all of our artisan crafted recipes.