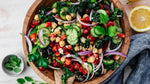 Mediterranean Chickpea Salad
Ingredients:
1 14 oz can chickpeas, drained and rinsed

2 cups cherry tomatoes, halved

1 red bell pepper, diced

1 cup English cucumber, slices

1/2 red onion, thinly sliced

1 cup Tuscan kale, stems removed & chopped

1/3 cup pitted kalamata olives

1/4 cup feta cheese

DRESSING

1/4 cup blood orange extra virgin olive oil

1 garlic clove, minced (or 1/2 teaspoon garlic powder)

1 1/2 teaspoon fresh parsley, chopped (or 1 teaspoon dried)

1 teaspoon fresh oregano (or 1/2 teaspoon dried)

2 Tablespoon lemon juice

2 Tablespoon vanilla fig balsamic vinegar

1/2 teaspoon (each) salt & black pepper

1-2 teaspoon maple syrup (or honey)
Instructions:
Whisk dressing ingredients: in a liquid measuring cup or small bowl, add all of vinaigrette ingredients and whisk together. Set aside.

Assemble salad: In a large salad bowl arrange chopped veggies, chickpeas, olives, feta cheese, and drizzle with dressing. Toss until salad ingredients are evenly coated in vinaigrette. Taste, adjust flavor with additional salt & black pepper if needed, and then serve!