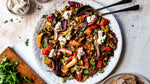 Ingredients:
240 g / 1 cup farro or small pasta (like orzo)

1 large (300 g / 10½ oz) aubergine / eggplant

1 small red onion, cut into wedges

1 celery stalk, thinly sliced

12 cherry toms, halved

1 tbsp capers

1 tbsp pine nuts

2 dry figs, finely chopped

30 ml / 2 tbsp lime extra virgin olive oil

1 garlic clove, finely grated

1 tsp dried oregano (or marjoram)

1 tsp smoked paprika

¼-½ tsp mild chilli (like Turkish pul biber), adjust to taste (optional)

salt and pepper, to taste

15 ml / 1 tbsp sriracha mango white balsamic vinegar

10 g / 1/3 oz parsley, oregano or basil leaves, finely shredded

soft vegan cheese, shop-bought or homemade (optional)
Instructions:
Cook farro, pasta or whatever else you are using (wild rice, brown rice, Puy lentils would all work really well) as the base according to packet instructions.

Heat up the oven to 200° C / 390° F. Top and tail the aubergine / eggplant and cut it into half widthwise and then into eights lengthwise.

Lay them on the side in a medium size* deep baking tin and prebake for 10 minutes, then turn to the other side and carry on baking for another 10 minutes.
Add red onion wedges, celery, cherry toms, capers, pine nuts and chopped figs to the tray. Stir olive oil and minced garlic through.
Season with dried herbs, smoked paprika, chilli (if using) and a generous amount of salt and pepper. Return to the oven and bake for another 20 minutes, giving the vegetables a good stir and adding balsamic vinegar halfway through.

Plate roast vegetables on top of farro or pasta on a large plate / platter. Sprinkle with fresh herbs and dot with vegan cheese. Emjoy!