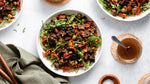 Za'atar Roasted Eggplant Lentil Salad With Sundried Tomatoes
Ingredients:
2-3 eggplants, diced (make about 6-7 cups diced)

2 tbsp avocado oil

3 tbsp tamari

1 tbsp toasted sesame oil

1 tbsp Za'atar

Freshly ground black pepper

1 ½ cup cups dry brown or green lentils (soak for 30 mins - 2 hours prior to cooking to reduce cooking time)

1 bay leaf and a piece of kombu (optional, see notes)

4-5 cups wild arugula (or any other greens of choice)

1 cup sundried tomatoes in oil, chopped

½ cup capers

¼ cup herbes de provence extra virgin olive oil

2 tbsp prickly pear balsamic vinegar

1 tbsp tamari

1 tbsp toasted sesame oil

2 Tsp maple syrup

¼ Tsp crushed red pepper flakes

2 Tsp Za'atar
Instructions:
Start by preheating the oven to 425F.

Dice your eggplants and spread them on a baking dish.

In a small bowl, mix together the avocado oil, tamari, toasted sesame oil, za'atar, and freshly ground pepper to taste. Stir to combine and pour the mixture over the eggplant. Toss to cover evenly and roast for about 45-50 minutes or until soft. Toss 2-3 times throughout roasting. I also added about ¼ cup of water at the 30-minute mark to steam the eggplant a little, and to avoid it burning.

While that's roasting, cook the lentils. Rinse the lentils and add them to a pot with cold water, bay leaf, and kombu (if using) and bring to a boil. Lower the heat and cook until soft. Brown lentils cook 20-25 minutes, green lentils 18-20 minutes (shorter if soaked). Drain and set aside.

To make the dressing, combine the extra virgin olive oil, balsamic vinegar, tamari, toasted sesame oil, maple syrup, crushed red pepper flakes, za'atar spice, and stir well to combine.

When ready, combine everything but the dressing in a big bowl and toss to combine or divide between plates. Drizzle with the dressing right before serving.