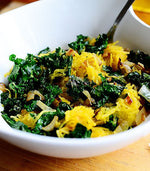 Roasted Spaghetti Squash with Kale
Ingredients:
1 tsp. Blood Orange Extra Virgin Olive Oil

2

 

bunches Kale, Stalks Removed And Torn Into Pieces

1 tsp.

 Prickly Pear 

Balsamic Vinegar
Instructions:
Preheat the oven to 350 degrees.

Cut the spaghetti squash in half lengthwise. Scoop out the seeds and pulp in the center and discard. Place the squash, cut side up, on a large baking sheet. Rub a little olive oil over the cut surface, then place the pan in the oven for 1 hour or until a fork is easily inserted into the squash.

While the squash is cooking, saute the kale: Heat 1 tablespoon olive oil in a large skillet over medium-high heat. Add the onion to the pan and cook for 3 to 4 minutes, or until starting to turn color. Throw in the kale, sprinkle in some salt and pepper, and stir to saute until the onions are golden about the kale is partly cooked, about 5 minutes. Set aside.

When the squash is cooked, use a fork to scrape the stringy squash out of the shell. Add the squash to a bowl. Mix together 1 tablespoon olive oil with the balsamic vinegar. Drizzle it over the squash, sprinkle with salt and pepper, and add the chili powder. Toss to combine.

Add the squash to individual bowls, then top with a good amount of sauteed kale. You will have squash left over!