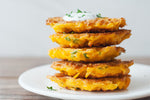 Butternut Squash Fritters
Ingredients
1 butternut squash (about 3 pounds), peeled and shredded
1/3 cup all-purpose flour
2 cloves garlic, minced
2 large eggs, beaten
1/2 teaspoon dried thyme
1/4 teaspoon dried sage
Pinch of nutmeg
Kosher salt and freshly ground black pepper, to taste
2 tablespoons of Miller's Blend Extra Virgin Olive Oil
2 tablespoons of Black Currant Balsamic Vinegar to drizzle
Instructions:
In a large bowl, combine butternut squash, flour, garlic, eggs, thyme, sage and nutmeg; season with salt and pepper, to taste.
Heat Miller's Blend Extra Virgin Olive Oil in a large skillet over medium high heat. Scoop tablespoons of batter for each fritter, flattening with a spatula, and cook until the underside is nicely golden brown, about 2 minutes. Flip and cook on the other side, about 1-2 minutes longer.
After plating drizzle Black Currant Balsamic over butternut squash fritters
Serve immediately.