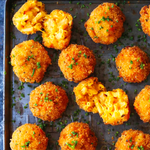 Fried Mac and Cheese Balls
Ingredients
3 cups macaroni and cheese,

 

homemade

 

or store-bought
2 large eggs, beaten
1 1/2 cups Panko
2 tablespoons chopped fresh chives
2 tablespoons Raspberry Balsamic Vinegar to drizzle
Instructions:
Place macaroni and cheese into the refrigerator until firm, about 3-4 hours.
Heat White Truffle Extra Virgin Olive Oil in a large stockpot or Dutch oven over medium high heat.
Using a small cookie scoop, roll macaroni and cheese into 1 1/4-to-1 1/2-inch balls, forming about 12.
Working one at a time, dip balls into eggs, then dredge in Panko, pressing to coat.
Working in batches, add balls to the Dutch oven and cook until evenly golden and crispy, about 3-4 minutes. Transfer to a paper towel-lined plate.
Drizzle Raspberry Balsamic Vinegar over cooled fried mac and cheese balls.
Serve immediately, garnished with chives, if desired.
Enjoy!