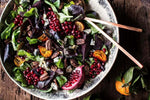 Lavender and Pomegranate Beet Salad with Candied Pecans
Ingredients:
Instructions:
Preheat the oven 400 degrees F.

Toss the beets together with the olive oil and a good pinch of both salt + pepper. Spread the beets out in an even layer on two baking sheets. Roast for 30-35 minutes or until lightly charred and tender. Allow to cool before adding to the salad.

Meanwhile, line another baking sheet with parchment paper. Add the pecans to the baking sheet and toss with the maple syrup, cayenne and a pinch of salt. Bake (at 400 degrees F.) for 15-25 minutes, stirring 2-3 time throughout cooking until the pecans are toasted and golden. Remove from the oven and spread the pecans in one layer. Allow to cool.

Add the greens to a large bowl. Add the pomegranate arils, beets, pecans, gorgonzola cheese, and Lavender Balsamic Vinegar Give the salad a gentle toss.

To make the dressing, combine the Rosemary Extra Virgin olive oil, Lavender balsamic vinegar and a pinch of salt + pepper in a bowl or glass jar. Drizzle the dressing over the salad or serve along side the salad. Enjoy!