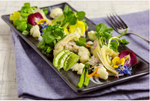 Watercress Salad with Avocado, Artichokes and Cauliflower + French Vinaigrette
Ingredients
Make the Watercress salad:
2 bunches watercress, coarsely chopped
1 avocado, sliced thin and halved into small pieces
1 cup marinated artichoke hearts, coarsely chopped
1 cup cauliflower florets, cut into small pieces
1 cup chopped nuts (macadamia, almonds or cashews)
Instructions
In a small mixing bowl, whisk together the shallots, Seven Barrels White Balsamic Vinegar and sea salt. Whisk in the mustard and then slowly stream in the Seven Barrels Herbes de Provence Extra-Virgin Olive Oil whisking constantly, until the dressing is emulsified and ingredients are blended well. Season to taste with additional sea salt and freshly ground black pepper.
Add the watercress, avocado, artichokes and cauliflower to a large mixing bowl. Pour the vinaigrette dressing over the salad and toss to coat evenly.
Serve on plates and garnish with chopped nuts, and extra dressing on the side, if desired.
Serves 4.