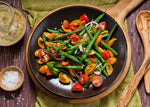 Tomato & Green Bean Salad
Ingredients
2 large shallots, thinly sliced
4 Tbsp red wine vinegar
4 Tbsp Seven Barrels White Balsamic Vinegar
1/2 cup Seven Barrels Tuscan Herb Olive Oil
1 Tbsp Dijon mustard
1/2 cup shredded basil
Salt and pepper to taste
1.5 lbs thin green beans, trimmed
3 pints yellow and red cherry tomatoes, halved
Instructions
Soak shallots in vinegar for a minimum of an hour or overnight.
Whisk in the Dijon mustard.  Gradually whisk in oil. Salt and pepper to taste.
Stir basil into the dressing.
Parboil green beans in boiling salted water for 2 minutes, until tender.  Rinse under cold water.
Toss the beans with half the dressing. Toss the tomatoes with the remaining dressing.
Arrange for a colorful presentation
Save