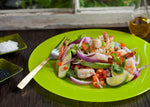 Ingredients
1/4 cup thinly sliced red onion
1 lime, juiced
2 Tbsp Lime Olive Oil
salt and pepper
1 lb large or jumbo cooked shrimp, peeled and deveined, tails on 1 medium tomato, seeds removed, diced
2 avocados, sliced
1 jalapeno, seeds removed, chopped fine
1 Tbsp chopped cilantro
 
Instructions
In a small bowl, combine red onion & lime juice. Let sit for 10 minutes.  Whisk in Lime Olive Oil, salt and pepper.
In a large bowl combine shrimp, avocado, tomato, jalapeno and cilantro. Pour dressing mixture over shrimp salad and toss gently.
Salt and pepper to taste. Garnish with cilantro.
Save