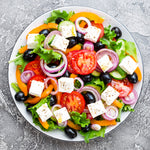 Ingredients
4 large ripe tomatoes
1/2 large red onion
2 large cucumbers
1 cup Kalamata olives
4 ounces high quality feta cheese: crumbled, cut into squares, or in a block (Greek feta, if you can find it!)
2 tablespoons Sweet Basil Extra Virgin Olive Oil
1 tablespoon Traditonale Balsamic vinegar
1 teaspoon dried oregano
2 tablespoons capers (optional)
Kosher salt
Instructions
Chop the tomatoes into rough chunks; remove and discard the seeds. Place the tomatoes in a large bowl and add a few pinches of kosher salt.

Thinly slice ½ red onion. Peel alternating strips from the cucumbers, making a striped pattern with the peel (alternatively, remove the peel entirely). Cut the cucumbers in half and use a spoon to remove the seeds; then, cut them into ½-inch pieces.

In a large bowl, combine the tomatoes, red onion, and cucumbers with 1 cup Kalamata olives, 4 ounces feta cheese crumbles, 2 tablespoons Sweet Basil olive oil, and 1 tablespoon Traditionale Balsamic vinegar. If desired, add 2 tablespoons drained capers and 1 teaspoon dried oregano. Gently mix to combine.

Serve immediately, or let sit at room temperature for several minutes to allow the flavors to meld.