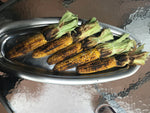 Ingredients
Corn on the Cob
Cilantro
Oregano
Salt
Instructions
Prepare corn by pulling down outer husks neatly. Pull off the inside silk strands. Use butcher twine to tie the husks together and cut off bottom half with a scissor, to create a 'handle' for the corn.
In a small bowl, combine ¼ c Lime Olive Oil with finely chopped cilantro, oregano, salt.
Grill, turning frequently, for 6-8 minutes, until lightly browned.
Brush corn with Sriracha Mango Balsamic.
Save