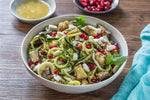 Roasted Eggplant Zucchini Noodles with Blood Orange & Black Currant Dressing
Ingredients
1 medium Italian eggplants
¼ cup plus 1 tablespoon Seven Barrels Blood Orange Olive Oil, divided
1-2 tablespoons Seven Barrels Black Currant Balsamic Vinegar
Sea salt, to taste, plus more for serving
Freshly ground black pepper, to taste
1-2 tablespoons fresh parsley, chopped
½ cup water
¼ cup dry quinoa
1 zucchini, spiral sliced or made into ribbons with a wide peeler
1 tablespoon lemon juice
1 teaspoon grainy Dijon mustard
1 teaspoon honey
Ground black pepper, to taste
½ cup pomegranate arils or cherry tomatoes, halved
½ cup feta cheese, for garnish
Handful fresh mint, roughly chopped, for garnish
Instructions
Preheat oven to 475ºF.
Cut eggplant into 1-inch cubes. On a rimmed baking sheet, toss eggplant with ¼ cup Seven Barrels Blood Orange Olive Oil and season with salt and pepper. Roast until browned and tender, about 25 minutes. Toss with 1-2 tablespoons Seven Barrels Black Currant Balsamic Vinegar and chopped parsley.
Meanwhile, bring salted water and quinoa to a boil in a medium saucepan. Reduce to a simmer, cover, and cook for 15 minutes. Remove from heat and let steam with cover on for 5 minutes. Fluff with a fork.
For the dressing, in a small bowl, combine 1 tablespoon of Seven Barrels Blood Orange Olive Oil, lemon juice, grainy Dijon mustard, honey, and ground pepper. Season with salt, to taste.
Squeeze any excess water out of the zucchini noodles with a tea towel or paper towels. Add 1 tablespoon of Seven Barrels Blood Orange Olive Oil in a large sauté pan and cook the noodles for about 2-3 minutes, toss in the cooked quinoa and mix together.
Pour the dressing over the cooked quinoa and zucchini; toss well to combine and transfer to a serving bowl. Top with roasted eggplant, pomegranate arils or cherry tomatoes, feta cheese and mint, to serve. Drizzle with an additional small amount of dressing, and additional salt and pepper to taste, if desired.
Serves 2.