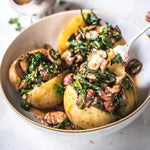 Stuffed Baked Potatoes with spinach and mushrooms
Ingredients:
4 russet potatoes
2 cloves garlic , finely chopped
4 cups cremini mushrooms , chopped
pinch salt
1 tbsp butter
1 tbsp elderberry balsamic vinegar
1 tbsp lemon juice
4 cups baby spinach (approx. 2 handfuls)
Instructions:
Preheat oven to 425F. Poke holes around each potato using a fork (this will help the heat to escape while baking). Wrap each in tin foil and bake in the oven for 40-50 minutes, or until you can easily poke through the cooked potatoes with a toothpick.

In a skillet add extra virgin olive oil, garlic, cremini mushrooms and pinch salt. Cook on medium heat for 5-10 minutes. Whisk together butter, balsamic and lemon juice and pour over veg. Continue cooking until mushrooms are browned and ready to eat, then toss in baby spinach and cook until wilted (2-3 minutes).

Slice open baked potatoes and fill with mushroom and spinach medley. Drizzle extra balsamic vinegar over to finish if desired. Enjoy!