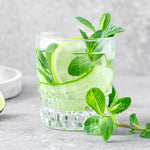 Honey dew and Cucumber White Sangria 
Ingredients:
1 bottle of mildly sweet white wine


1 cup white rum


¼ cup St. Germain


2 cups fresh honeydew juice

¼ cup cucumber juice


2 tbsp Cucumber White Balsamic Vinegar

A sprig of mint - optional

Fresh Cucumber and Honeydew as Garnish
Instructions:
Slice a few pieces of cucumber and honeydew for garnish.
Cucumber and Honeydew juice can be juiced from existing fruit on hand or bought bottled from your local grocery store. If juicing make sure to separate solids from freshly squeezed juices with a fine strainer. If using store bought juice proceed to the next step
Pour juice into your container with white wine, rum, cucumber balsamic vinegar and St. Germain. Stir gently. Add sliced cucumber and honeydew fruit from step 1 to your container and you can serve immediately. No need to let it sit over night.
Pour over ice and garnish with a fresh sprig of mint and additional sliced fruit. 
Enjoy!