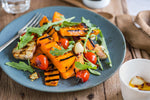 Ingredients
1 recipe Roasted Delicata Squash
1 large shallot
2 tablespoons chopped pistachios
5 ounces baby mixed greens (about 5 cups)
⅓ cup pomegranate seeds
2 tablespoons roasted salted pepitas
2 ounces soft goat cheese (omit for vegan)
2 tbsp White Balsamic Vinegar
2 tbsp White Truffle extra virgin olive oilInstructions
Instructions
Make the Roasted Delicata Squash. (This takes about 25 to 30 minutes total; finish the remaining prep while the squash roasts. Or you can roast it in advance, store refrigerated, and reheat in a 400 degree oven until it's warm, about 5 to 10 minutes.)

Combine white balsamic vinegar with white truffle extra virgin olive oil to make dressings

Thinly slice the shallot. If needed, chop the pistachios.
To serve, place the greens on a serving plate. Top with roasted delicata squash, shallot, pistachios, pomegranate seeds, pepitas, and goat cheese dollops. Drizzle with Honey Mustard Dressing and serve.