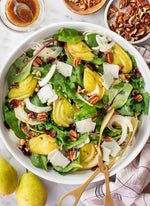 Pear Salad with Balsamic and Walnuts
Ingredients:
4 cups mixed salad greens

2 ripe pears, sliced

1 fennel bulb, sliced paper thin

Lemon wedge

2 tablespoons dried cranberries

1 tablespoon chopped pecans

1 tablespoon chopped walnuts

1 tablespoon chopped hazelnuts, or more pecans or walnuts

⅓ cup shaved pecorino

Sea salt and freshly ground black pepper
Instructions:
Assemble the salad with the mixed greens and top with the pears and fennel. Squeeze a little lemon over the pears and fennel and toss.

Top with the cranberries, pecans, walnuts, hazelnuts, and pecorino. Drizzle with balsamic vinaigrette and Miller's Blend EVOO. Season to taste with salt and pepper.