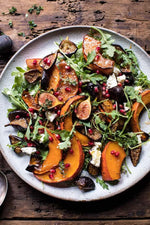 Roasted Squash, Caramelized Fig, and Strawberry Feta Salad
Ingredients:
1 kabocha or acorn squash, sliced

1/4 cup honey

2 tablespoons fresh thyme leaves

kosher salt

16-20 fresh or dried figs, halved

2 tablespoons lemon juice

2 tablespoons Strawberry Balsamic Vinegar

1 tablespoon orange zest

black pepper

4 cups baby arugula

4 ounces feta cheese crumbles

arils from 1 pomegranate
Instructions:
Preheat the oven to 425 degrees F.

On a rimmed baking sheet, toss together the squash, 2 tablespoons olive oil, honey, 1 1/2 tablespoons thyme leaves, and a good pinch of salt. Transfer to the oven and roast for 20 minutes. Remove from the oven, add the figs to the baking sheet and toss to combine. Return to the oven and roast another 10-15 minutes or until the figs have caramelized. If using dried figs, cook them only 5 minutes. This will soften them.

To make the dressing: In a mason jar, combine the remaining 1/4 cup olive oil, lemon juice, Strawberry balsamic vinegar, remaining 1/2 tablespoon thyme, orange zest, and a pinch each of kosher salt and pepper.

Add the arugula to a large salad bowl and top with the roasted squash and figs. Crumble the feta overtop and sprinkle with pomegranate arils. Drizzle with the dressing.
Enjoy!