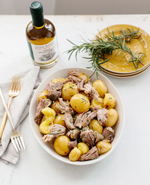 Slow-Cooker Rosemary Pork and Potatoes
Preparation: 15 minutes
Cook time: 4 hours
Serves 4
Ingredients:
2 ½-3 pounds boneless pork shoulder, cut into 2-inch pieces
1 tablespoon minced garlic
2 teaspoons kosher salt
1 teaspoon ground fennel seed
1 teaspoon freshly grated lemon zest
½ teaspoon crushed red chili pepper
3 tablespoons

 

Seven Barrels Rosemary Extra Virgin Olive Oil
2 tablespoons chopped fresh rosemary
¼ cup dry white wine
¼ cup chicken broth
1 ½ pounds new potatoes, about 1¼ inches in diameter
Instructions:
Sprinkle the pork on all sides with the salt, garlic, fennel, lemon zest and crushed chili pepper.
Sear pork pieces with 2 tablespoons of the olive oil over medium-high heat in a stovetop-safe slow cooker insert or heavy skillet until browned.
Add the rosemary, white wine and chicken broth to the slow cooker along with the pork and potatoes.
Cover and cook on high for 4 hours or on low 8 hours. Transfer to a serving dish and drizzle the pork and potatoes with the remaining tablespoon olive oil.
Serve and enjoy!