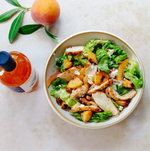 Grilled Peach Chicken Salad
Preparation: 10 minutes
Cook time: 25 minute
Serves 4
Ingredients:
For the dressing:
3 tablespoons

 

Seven Barrels Miller's Blend Extra Virgin Olive Oil
1 tablespoon finely chopped shallot
½ teaspoon salt
For the salad:
1 large firm-ripe peach, halved and pitted
2 boneless, skinless chicken breasts (about 1¼ pounds)
½ teaspoon smoked paprika
Kosher salt and freshly ground black pepper
4 cups Boston or Bibb lettuce, torn into pieces
¼ cup thinly sliced red onion
1/3 cup crumbled soft goat cheese
¼ cup roasted almonds, coarsely chopped
Instructions:
To make the dressing: Place all ingredients in a small food processor or blender and process until smooth.
To make the salad: Heat a grill to medium-high heat for direct grilling. Brush the peach halves lightly with olive oil. Grill until both sides have grill marks, 2-3 minutes per side. Cool slightly, then slice into 1-inch wedges or chunks.
Season the chicken generously on both sides with the paprika, salt and pepper to taste.
Place the chicken on the grill. Cook until the internal temperature registers 160-165 degrees, about 6-7 minutes per side. Slice crosswise into ½-inch slices.
Toss the lettuce, onion, goat cheese, almonds and some of the dressing in a bowl until lightly coated. Transfer to a platter and arrange the chicken and peaches on top. Drizzle with additional dressing and serve.
Enjoy!