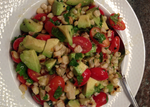 Southwestern Grilled Corn Salad
Ingredients
1 pt grape tomatoes
2 ripe avocados
3 ears corn, husks removed
1 jalapeno pepper
3 Tbsp chopped cilantro
Juice from 1/4 fresh lime
Salt & Pepper
Dressing
2 Tbsp Seven Barrels White Balsamic Vinegar
1 clove garlic, minced
4 Tbsp Seven Barrels Tuscan Herb Olive Oil
Salt & Pepper
Instructions
Preheat oven to 350.
Brush corn with a Seven Barrels Tuscan Herb Olive Oil. Then, grill corn for 10 minutes, turning frequently, until lightly browned on all sides. Cut jalapeno pepper in half, remove seeds, grill until lightly charred. Cool, and using a sharp knife, cut the corn off the cobs into a large bowl and finely chop the jalapeno pepper.
Slice grape tomatoes in half.
With the skin still on, cut avocado in half, remove pit by using a spoon to scoop it out, peel off the rind and slice into sections. Then dice.
Add jalapeno, tomatoes & avocado into bowl with corn. Squeeze fresh lime juice over mixture.
Dressing:
Whisk together the Seven Barrels White Balsamic Vinegar and garlic. Slowly add the Seven Barrels Tuscan Herb Olive Oil while continuing to whisk. Add salt & pepper. Adjust ingredients as necessary.
Toss the Dressing over the salad gently.
It is best to prepare 1/2 hour prior to serving to allow flavors to combine.