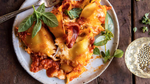 Butternut Squash and Cheese Stuffed Pasta Shells
Ingredients:
1 tablespoon Miller's Blend Extra Virgin Olive Oil

1 tablespoon Traditionale Balsamic Vinegar

2 cups cubed butternut squash (1 small squash)

2 tablespoons fresh thyme leaves

1 pinch red pepper flakes

1 pinch each kosher salt and black pepper

3 ounces prosciutto (omit if vegetarian)

1 pound jumbo shells

1 1/2 cups whole milk ricotta cheese

2 cups shredded fontina or provolone cheese

4 cups Mezzetta Artisan Ingredients Marinara Sauce

8 ounces mozzarella, tornfresh basil, for serving 
Instructions:
Preheat oven to 425° F. On a baking sheet, toss together the miller's blend extra virgin olive oil, traditionale balsamic vinegar, butternut squash, thyme, and a pinch each of red pepper flakes, salt, and pepper. Lay the prosciutto over the squash. Bake for 15-25 minutes, until the prosciutto is crispy. Remove the prosciutto and set aside. If squash needs more time, return to the oven for another 10 minutes, or until the squash is tender.

Meanwhile, bring a large pot of salted water to a boil. Boil the pasta until al dente according to package directions. Drain.

In a medium bowl, combine the ricotta, fontina, and roasted butternut squash. Season with salt and pepper.

To assemble, spoon 2-3 cups marinara sauce into the bottom of a 9×13 inch baking dish. Stuff each shell with 1 tablespoon of the cheese and place into the baking dish with sauce. Top with the remaining marinara sauce and mozzarella. Bake 20-25 minutes or until the cheese has melted and is lightly browned on top.
Serve the shells topped with prosciutto and basil. Enjoy!