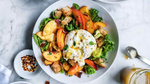 Peach Panzanella Salad with Burrata and Bacon
Ingredients:
3-4 slices bacon

3 cups sourdough bread cubes

2 peaches , thinly sliced

Fresh lettuce leaves such as red leaf , butter lettuce or arugula

8 ounces fresh burrata cheese

Basil leaves for garnish

For the Vinaigrette

½ cup herbes de provence extra-virgin olive oil

¼ cup cucumber balsamic vinegar

1 tablespoon honey

1 teaspoon Dijon or seeded mustard

2 cloves garlic , pressed

½ teaspoon crushed red-pepper flakes

¼ teaspoon kosher salt

¼ teaspoon freshly ground black pepper
Instructions:
Fry the bacon in a large skillet over medium high heat, transfer to a paper towel lined plate to drain and cool, then crumble into pieces. Add the sourdough cubes to the same pan used to cook the bacon and toast the cubes on all sides until golden. Transfer to a plate or bowl to cool and sprinkle with flaky sea salt.

To assemble the salad, place the torn lettuce, bread, peach slices and burrata on a serving plate or bowl. Sprinkle with the bacon pieces and basil leaves and drizzle with the vinaigrette. Season with more kosher salt and pepper if you'd like.
To make the vinaigrette add all of the ingredients to a jar fitted with a lid and shake well until emulsified. There will be extra dressing that can be stored in the refrigerator for 1-2 weeks.
Enjoy!