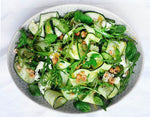 Ribbon Zucchini Salad with Arugula, Feta & Hazelnuts
Ingredients:
pinch of salt

zest of 1 lemon

3 tbsp Meyer Lemon extra virgin olive oil

3 tbsp Cucumber Balsamic Vinegar

1 cup feta, crumbled

1 cup Arugla

1/2 cup toasted hazelnuts, roughly chopped

a handful of basil leaves
Instructions:
Cut the zucchini lengthwise into ribbons with a vegetable peeler or mandolin, toss lightly with a scant sprinkle of salt, lemon zest and drizzle 1 tbsp only of the olive oil.

Leave to stand for 5 minutes before tossing with the feta and arugula, arrange on a platter.

Sprinkle with hazelnuts, drizzle with remaining oil and finish with the basil leaves.
Enjoy!