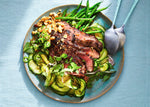 Thai-Inspired Beef & Cucumber Salad
Ingredients:
3 limes (2 teaspoons zest, 6 tablespoons juice)

3 tablespoons fish sauce

2 tablespoons soy sauce

2 tablespoons White Truffle Extra Virgin Olive Oil

2 tablespoons Cucumber Balsamic Vinegar

1 teaspoon sugar

2 small garlic cloves, minced

1 ¼ pounds beef flank steak

6 ounces haricots verts (thin green beans) or green beans

5 cups thinly sliced English cucumbers

¾ cup chopped fresh cilantro leaves

½ cup thinly sliced shallots

2 tablespoons chopped basil

2 tablespoons chopped fresh mint

¼ cup chopped peanuts

1 Serrano pepper, thinly sliced and seeded if desired
Instructions:
In a medium bowl whisk together lime juice and zest, fish sauce, soy sauce, White truffle extra virgin olive oil, sugar, garlic, 2 tablespoon cucumber balsamic vinegar, 1/2 teaspoon kosher salt, and 1/2 teaspoon black pepper. Pour 1/2 cup of the dressing into a large resealable plastic bag. Add steak to bag; seal and massage to coat. Marinate in the refrigerator 3 to 4 hours. Set aside remaining dressing.


Drain and discard marinade from steak. Grill steak, covered, over medium-high 12 to 16 minutes or until desired doneness (145°F for medium), turning once. Transfer to a cutting board; tent with foil. Let stand 10 minutes.


Blanch green beans in boiling water 1 minute. Immediately plunge into ice water to cool; drain.


Thinly slice steak. Arrange on plates with green beans, cucumbers, cilantro, shallots, basil, and mint. Drizzle with reserved dressing. Top with peanuts and serrano pepper. Serves 4.