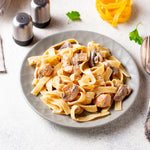 Creamy Pumpkin Parmesan Chicken with Vanilla Fig Roasted Mushrooms
Ingredients
2 lbs. chicken thighs 
2 tbsp. White Truffle Olive Oil
1/2 tsp. sea salt
1/2 tsp. black pepper
Pumplin Parmesan Sauce
2 tbsp. butter
1/2 cup pumpkin puree
1/2 cup plain almond milk
1/3 cup parmesan cheese
Vanilla Fig Sauteed Mushrooms
2 lbs cremini mushrooms
2 tbsp White Truffle Olive Oil
2 Figs sliced
2 tbsp Vanilla Fig Balsamic Vinegar
1/4 tsp. sea salt
1/4 tsp. black pepper
Instructions:
Preheat oven to 400°
Prepare chicken thighs by assuring they are completely dry. Place in a cast-iron skillet or on a sheet pan. Coat each chicken with olive oil (dispersing between each chicken thigh) and salt and pepper.
Roast in the oven for 40-45 minutes or until internal temperature reaches 165°. Remove from the oven and set aside.
Sauteed Vanilla Fig Mushrooms
In a large cast-iron skillet over medium-high heat add olive oil and mushrooms. Do not move or touch mushrooms for 4 minutes.
Add whole chopped figs, vanilla fig balsamic, salt, and pepper, move mushrooms around the pan, saute for an additional 4 minutes or until mushrooms are browned and tender. Remove from pan and set aside.
Pumpkin Parmesan Sauce
In the same mushroom skillet (with the mushrooms removed) combine the pumpkin puree, almond milk, and butter over medium-low heat. Whisk until well combined, creamy, and smooth. Add parmesan cheese, turn off heat and stir well.
Add mushrooms to sauce, stir to combine. Nestle crispy thighs into the sauce and top with additional parmesan cheese and chopped fresh parsley
Enjoy!