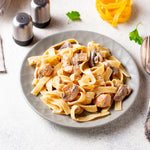 A thick and creamy Pumpkin Parmesan Chicken with Vanilla Fig Roasted Mushrooms. Featuring White Truffle EVOO, and Vanilla Fig Balsamic.
---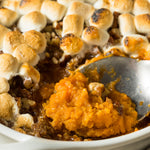 Rich and Sweet Twice-Baked Sweet Potatoes with Toasted Marshmallows. Featuring maple balsamic vinegar, red apple balsamic vinegar, and Miller's Blend EVOO.
---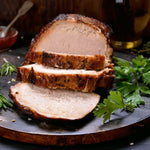 A classic pork roast with maple and red apple glaze. Featuring red apple balsamic vinegar, maple balsamic vinegar, and miller's blend extra virgin olive oil.
---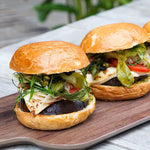 Thick juicy eggplant burgers featuring tuscan herb extra virgin olive oil and raspberry balsamic vinegar.