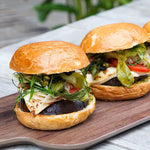 Eggplant Burgers with Yogurt-Feta Sauce and Raspberry Balsamic 
Ingredients
6 oz. feta cheese
1/3 cup plain whole-milk yogurt
Kosher salt and freshly ground black pepper
1 tsp. lemon zest
1 tbsp. lemon juice
1 tsp. sumac
3 tbsp. Tuscan Herb Extra Virgin Olive Oil (divided)
1/2 large cucumber
1 medium eggplant, sliced in 1/2-inch thick rounds
1 large red pepper, halved and seeded
4 buns of your choice
1 tbsp. per burger Raspberry Balsamic Vinegar to finish
Instructions:
Puree feta and yogurt in a food processor until smooth, about 1 minute. Season with salt and pepper. Whisk together lemon zest and juice, sumac, and 1 tablespoon olive oil in a bowl. Season with salt and pepper. Using a vegetable peeler, shave cucumber into ribbons; toss with lemon dressing.
Set up grill for direct cooking and heat to medium-high. Once hot, clean and lightly oil grates with canola oil.
Brush eggplant with remaining 2 tablespoons olive oil and season with salt and pepper. Grill over direct heat, turning occasionally, until just tender, 6 to 8 minutes. Grill pepper, turning often, until charred, 5 to 6 minutes; cut into wide strips. Grill buns until toasted, 1 minute. Spread yogurt sauce on buns. Top with peppers, eggplant, and cucumbers. Finish with raspberry balsamic vinegar before placing top bun on burger
Enjoy!