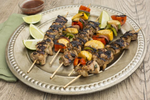 Grilled Elderberry Lime Chicken & Vegetable Kabobs
Ingredients
2 pounds boneless chicken thighs (skinless), cut into 1-inch chunks
2 bell peppers (red, yellow, orange or green), cut into 1-inch chunks
1 large red onion, cut into large chunks
1 large zucchini, cut into large chunks
1 large yellow squash, cut into large chunks
1 cup

 

Elderberry Lime Marinade
Sea salt and freshly ground pepper, to taste
Preparation
Place chicken and vegetables in large plastic Ziploc bags and pour 1/2 of the Elderberry Lime Marinade over each, letting marinade in the fridge for at least two hours up to eight hours.
Pre-soak wooden skewers in water for at least 15-20 minutes, and preheat grill on medium-high heat.
Thread the chicken and vegetables evenly spaced on separate skewers and discard the marinade except for a small amount to use while grilling.
Lightly oil the grate and grill chicken skewers until opaque and juices run clear (about 12-15 minutes) and the vegetable skewers for about 8-12 minutes until soft and beginning to brown. Turn and brush with extra marinade frequently. Season with additional salt and pepper to taste.
Transfer the skewers to a warm platter and serve immediately.
Serves 4 to 6.