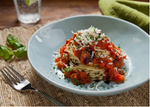 Ingredients
1 28 ounce can diced tomatoes
1 28 ounce can crushed tomatoes
Large shallot, chopped fine
5 cloves garlic, minced
3 Tablespoons Basil Oil
½ teaspoon sugar
Salt, pepper, crushed red pepper
¼ cup fresh basil, chopped
2 Tablespoons Traditionale Balsamic Vinegar
1 pound linguini
Parmesan Cheese, grated or shaved
Chopped basil or parsley
Instructions
Sauté shallots and garlic in a large sauté pan until soft, in Basil Olive Oil. Combine both cans of tomatoes in food processor and pulse briefly.
Add to sauté pan with sugar, salt, pepper and crushed red pepper. Bring to boil and turn down to simmer for 15 minutes.  Add fresh chopped basil & Traditionale Balsamic Vinegar.
Serve over cooked linguine or pasta of your choice.
Serve with Parmesan cheese.  Garnish with chopped basil or parsley.