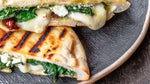 Mozzarella and Feta Pita Grilled Cheese
Ingredients:
2 tablespoons Herbes De Provence Extra Virgin Olive Oil

1 tablespoon Red Apple Balsamic Vinegar 

3 heaping cups baby spinach

4 pita pockets from 2 pita loaves cut in half

3 ounces feta cheese more as needed

¼ to ⅓ cup basil pesto

3 to 4 ounces fresh mozzarella cheese sliced into ¼-inch slices, more as needed

⅓ cup sundried tomatoes packed in oil drained, chopped
Instructions:
Sautee the Spinach. In a grill pan, heat 1 tablespoon extra-virgin olive oil over medium-high heat until shimmering. Add the spinach and cook for a couple of minutes, tossing, until wilted. Transfer the spinach to a plate for now and turn the heat off.

Assemble the sandwiches. Open up the pita pockets (it helps to warm the pita so they don't break when you open them). Spread the feta on the bottom followed by basil pesto, and red apple balsamic vinegar. Spoon a bit of the wilted spinach on top. Add the mozzarella and sundried tomatoes.

Grill the pitas. Heat the grill pan again over medium-high. Brush the pitas with extra virgin olive oil on both sides.
Arrange the pita sandwiches in the heated pan, making sure they are all touching the hot pan. Cook for 1 to 2 minutes or so on one side, applying pressure on the top part of the sandwich with the back of a spatula, turn over and cook for another couple minutes, applying pressure again with your spatula, until the cheese is melted and the bread gains some beautiful char marks.
Manage the heat to make sure the bread is well-crisped but not burned and the mozzarella is melted (you may need to cover the pan very briefly).
Serve immediately! Enjoy!