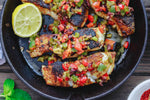 Ingredients:
4 pieces Sea Bass fillet

Salt

1 tablespoon tuscan herb extra virgin olive oil

1 tablespoon Traditionale Balsamic Vinegar

1 Green Bell Pepper, cored and chopped

1 Red Bell Pepper, cored and chopped

3 Shallots. chopped

4 garlic cloves, minced

½ cup pitted Kalamata olives, halved or chopped

½ lemon, juice off

½ tablespoon ground coriander

½ tablespoon garlic powder

1 teaspoon Aleppo pepper or Sweet Spanish paprika

1 teaspoon ground cumin

½ teaspoon black pepper
Instructions:
Take the fish out of the fridge about 20 minutes before cooking. Sprinkle with salt on both sides and set aside.

In a small bowl, combine the spices to make the spice mixture. Set aside for now.
In a medium-sized skillet, heat 2 tablespoon olive oil over medium-high heat until hot and shimmering but not smoking.

Add the bell peppers, shallots, and garlic. Season with salt and 1 teaspoon of the spice mixture you prepared earlier. Cook, stirring regularly, for 5 minutes or until the peppers have softened. Turn the heat to lowest, and stir in the chopped olives. Leave on low heat as you prepare the fish.

Pat fish dry and season with the remaining spice mixture on both sides as well.
In a large skillet, preferably cast iron, heat ¼ cup extra virgin olive oil over medium-high until shimmering but not smoking. Add the fish pieces (you can reduce heat to medium, if needed). Push down on the middle (thickest part) for 30 seconds or so.
Cook fish on one side, undisturbed, until nicely browned, about 4 to 6 minutes. Using a spatula, carefully turn fish over and cook on other side for 3-4 minutes until nicely browned as well. (Important Note- look for browned edges before you turn it over. If parts of the fish are stuck, you should be able to carefully scrape it with the spatula and turn. But, if the fish is entirely stuck, it's not ready to be turned over. Leave it for a little bit. It should release when ready.)

Remove fish from heat, immediately drizzle lemon juice. Serve hot with the bell pepper medley spooned on top. Add a side of cooked pearl couscous or rice, if you like. Or add a gluten-free side of your choice. Enjoy!