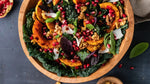 Autumn Kale & Butternut Squash Salad
Ingredients:
3 cups Tuscan kale, stems removed and chopped

1 1/2 cups butternut squash, peeled and sliced or cubed

2/3 cup pomegranate seeds

1/4 cup walnuts, chopped

1/4 teaspoon cinnamon

1 Tablespoon avocado oil

BALSAMIC VINAIGRETTE

1/4 cup tuscan herb extra virgin olive oil

3 Tablespoons traditionale balsamic vinegar

1 1/2 teaspoons maple syrup

1/4 teaspoon garlic powder

black pepper to taste
Instructions:
Preheat oven to 350F.

Cut squash: cut off the stems of the peeled squash, then cut into cubes or circles then cut them in halve. Remove seeds if using the core.

Roast squash: arrange sliced squash on a sheet pan, drizzle with avocado oil and use hands to coat evenly on both sides. Then sprinkle with a pinch of salt and 1/4 teaspoon of cinnamon. Bake for 20-25 minutes, or until it's tender when tested with a fork. Flip halfway through baking time for an even roast.

Whisk vinaigrette: in a liquid measuring cup or small bowl, whisk all of the dressing ingredients together. Taste and adjust flavor as needed.

Assemble salad: when butternut squash is finished roasted, assemble the salad with chopped kale, pomegranate seeds, walnuts, and roasted squash. Drizzle dressing over top and serve! Serve with fresh basil and parmesan cheese if desired. Enjoy!