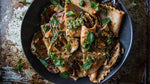 Pasta with Grilled Eggplant, with Smoky Tomato Sauce and Basil Walnut Pistou
Ingredients:
1 package gluten free lasagna noodles

Smoky Tomato Sauce

½ eggplant, cut into rounds ¼" thick.

3 tablespoons sweet basil extra virgin olive oil

3 tablespoons cucumber balsamic vinegar

kosher salt

Basil Walnut Pistou:

2 cloves garlic

2 cups packed fresh basil leaves

¼ cup walnuts

¼ cup fresh lemon juice

1/3 cup

sweet basil extra virgin olive oil

kosher salt
Instructions:
For the Eggplant, preheat a grill to medium-low.

Drizzle the eggplant slices with the olive oil and sprinkle them lightly with kosher salt. Place them on the grill with the largest pieces over the hottest part of the grill.
Watch them carefully so they don't burn, flipping them just as they start to soften and get good char marks on them, about 2 minutes depending on the size of the slices.

Continue to cook them until they have the marks on the other side as well. When they are cooked to tender on both sides, remove them from the grill and set them aside.

Bring a large pot of salted water to a boil and cook the gluten free lasagna noodles to al dente according to manufacturers directions.

While the pasta is cooking, make the basil walnut pistou. Combine all of the ingredients in a food processor and pulse until well combined. Season to taste with kosher salt.

After you drain the pasta, toss it with a generous amount of the smoky tomato sauce, cucumber balsamic vinegar, and the eggplant. Drizzle the top of the pasta with the basil walnut pistou and serve immediately. Enjoy!