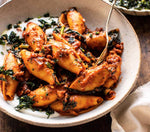 Unstuffed Spicy Tomato Basil Shells with Whipped Ricotta
Ingredients:
1 pound jumbo pasta shells

6 tablespoons sweet basil extra virgin olive oil

3 tablespoons cucumber balsamic vinegar

1/2 pound ground spicy Italian chicken sausage

3 shallots, thinly sliced

3 cloves garlic, finely chopped

2 teaspoons dried oregano (or 1 tbs fresh oregano)

2 teaspoons dried thyme leaves (or 1 tbs fresh thyme)

1 pinch crushed red pepper flakes

1 (6 ounce) can tomato paste

1 (14 ounce) can San Marzano tomatoes crushed

kosher salt and black pepper

2 cups chopped greens, such as kale, spinach, or chard

1 cup fresh basil, roughly chopped

zest and juice of 1 lemon (about 3 tablespoons juice)

1 cup whole milk ricotta cheese, whipped in the food processor, if desired
Instructions:
Bring a large pot of salted water to a boil. Add the pasta and cook according to package directions until al dente. Just before draining, remove 1 1/2 cups of the pasta cooking water. Drain.

Heat 2 tablespoons olive oil in a large skillet over high heat. When the oil shimmers, add the chicken sausage and brown all over, about 5 to 8 minutes. Reduce the heat to low, add the shallots, garlic, oregano, thyme and a pinch of red pepper flakes. Cook until the shallots begin to caramelize, about 5 minutes. Stir in the tomato paste, cook 2 minutes. Stir in the crushed tomatoes, 1 cup pasta cooking water, and season with salt and pepper. Simmer for 10-15 minutes or until the sauce thickens slightly. Add the greens, stirring until wilted. Taste and adjust seasonings as needed.

Add the pasta shells and 1/2 cup basil, tossing to combine. If needed, thin the sauce with additional pasta cooking water.

In a small bowl, mix the remaining 1/4 cup olive oil with the remaining 1/2 cup basil, cucumber balsamic vinegar, lemon zest, lemon juice, and a pinch of salt.

Spread the ricotta cheese into the bottom of each pasta bowl. Spoon the shells and sauce over the ricotta. Drizzle the basil lemon sauce overtop. Serve and enjoy!