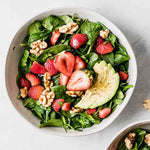 Avocado Strawberry Spinach Salad
Ingredients:
Instructions:
Wash and spin the spinach until dry.
Chop the spinach (if desired), strawberries, and avocados.
Toss the spinach, strawberries, avocados, and walnuts together.
Drizzle with Miller's Blend EVOO and Cucumber Balsamic and top with salt, pepper, and lemon juice to taste.
Serve and enjoy!