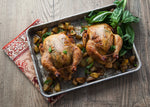 Ingredients
2 Cornish game hens
6 basil leaves, julienned
12 small new potatoes, halved
Salt
Cracked Black Pepper
Basil Olive Oil
Instructions
Preheat oven to 375.
To prepare the hens place the julienned basil under the breast skin. Truss the hens.  Brush with Basil Olive Oil and season with salt and cracked black pepper.
In a separate bowl toss the potatoes with the Basil Olive Oil, salt and pepper.
Place potatoes and chicken in same roasting pan, being careful not to crowd.
Roast in 375 oven for 45 minutes or until juices run clear in the leg when pierced with a fork.
Save