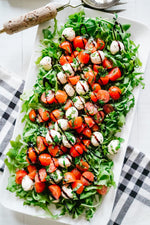 Strawberry Balsamic Burrata Arugula Salad
Ingredients:
5 oz - arugula

2 1/2 cups cherry tomatoes

1 cup mozzarella balls

2 tbsp fresh basil

1 tbsp Miller's Blend extra virgin olive oil

2 cloves of garlic

salt + pepper

3 tbsp Strawberry Balsamic Vinegar
Instructions:
On a large plate or platter lay out the arugula.

In a medium bowl combine cherry tomatoes that have been cut in half, mozzarella balls, thinly sliced basil, miller's blend extra virgin olive oil and minced garlic. Toss to combine, then season to taste with salt + pepper.

Pour the tomato and mozzarella over the arugula, drizzle with Strawberry Balsamic and serve immediately.