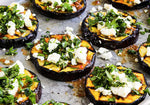 Grilled Eggplant with Feta and Herbs
Ingredients:
2 large eggplants, cut in uniform slices 3/4 inch thick

2 tsp. salt, for salting eggplant

2 Tsp sweet basil olive oil, for brushing on eggplant

1/4 cup chopped fresh mint 

1/4 cup chopped fresh cilantro 

1/2 cup crumbled Feta
Dressing Ingredients:
1 tsp. garlic puree or finely minced garlic

1/2 tsp. salt

4 tsp cucumber balsamic vinegar

3 tsp fresh lemon juice

2 tsp red onion, finely minced

1/2 tsp. ground cumin (or a little more if you really like cumin)

generous pinch Aleppo Pepper (or use cayenne pepper)

6 tsp Sweet Basil extra-virgin olive oil
Instructions:
Cut both ends off the eggplants and cut into slices 3/4 inches thick.

If you're salting the eggplant, lay it out on paper towels and sprinkle with salt. Let the eggplant sit about 20 minutes, or until you see beads of water released.
Then turn over and sprinkle with salt and let sit about 20 minutes more on the second side.

When you've turned the eggplant over and salted it the second time, start to preheat gas or charcoal barbecue grill to medium high.

While eggplant sits, put garlic, salt, lemon juice, and shallots or red onion into food processor fitted with steel blade, pulse until all ingredients are well combined, then let sit for 10 minutes.
After ten minutes, put mixture in small bowl, stir in ground cumin, Aleppo Pepper or a slightly smaller amount of Cayenne, and remaining dressing ingredients.

Wash fresh herbs in a salad spinner if needed and finely chop with a large knife. Crumble Feta into a small bowl.

After eggplant has been sitting with salt for the second 20 minutes, wipe the water (and salt) away from the eggplant with dry paper towel and put it on a baking sheet.

Brush eggplant with olive oil on both sides.

Lay eggplant slices on the grill. If you want criss-cross grill marks, grill the eggplant about 3-4 minutes on the first side, then lift up the edge to see if the grill marks are dark enough. When you see good grill marks, rotate each piece of eggplant and cook about 3-4 minutes more.

Turn eggplant over and cook 3-4 minutes more on the second side, or until it's done to your liking.

Arrange eggplant on a serving tray or baking sheet, drizzle with dressing, and sprinkle with crumbled feta and herbs.
Enjoy!