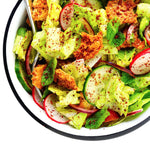 Lebanese Lemon and Pomegranate Fattoush Salad
Ingredients:
1 head Romaine lettuce, chopped into bite-sized pieces

1 English cucumber, thinly-sliced

1 small red onion, peeled and thinly-sliced

1 cup diced tomatoes

1 cup loosely-packed chopped fresh mint leaves

4 radishes, thinly sliced

2 to 3 cups pita chips

Ground sumac and freshly-ground black pepper to taste

1/3 cup Meyer Lemon extra-virgin olive oil

1/3 cup Pomegranate Balsamic Vinegar

1 large clove garlic, pressed or minced

1 teaspoon sea salt

1 teaspoon ground sumac
Instructions:
Make salad dressing mix Meyer Lemon Extra Virgin Olive Oil and Pomegranate Balsamic Vinegar together in a small bowl (or shake together in a mason jar) for 30 seconds. Set aside until emulsified. 

Make the salad: Combine the Romaine, cucumber, red onion, tomatoes, radishes, mint, and half of the pita chips in a large mixing bowl. Drizzle evenly with salad dressing, then toss until evenly combined.

Serve: Serve immediately, garnished with the remaining pita chips, plus an extra sprinkle of sumac and freshly-ground black pepper.
Enjoy!