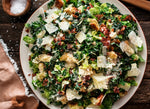 Roasted Garlic & Kale Caesar Salad
Ingredients:
2 heads garlic

kosher salt

¾ lb raw, sliced bacon

¼ cup freshly squeezed lemon juice

1 tbsp dijon mustard

3 anchovy fillets packed in oil, drained

½ cup grated parmesan cheese

2 tbsp White Balsamic Vinegar

freshly cracked black pepper

1 bunch (6-7 large leaves) lacinato kale, stemmed + rinsed + dried

½ lb crusty italian bread, torn into ½" pieces

3 hearts of romaine, both ends trimmed + rinsed + dried

1 small chunk parmesan cheese, shaved for topping
Instructions:
Preheat the oven to 300°F. Cut the tops off the heads of garlic, revealing the garlic cloves. Place the heads face-up on a piece of foil. Drizzle with olive oil and season with salt. Wrap the foil up, pinching it at the top, so the garlic is enclosed. Roast for 2 hours until soft and golden. Let cool.

Raise the oven heat to 425°F. Lay the slices of bacon in one, even layer onto a sheet pan. Roast for 20-22 minutes, or until crispy. Transfer the bacon to a plate lined with paper towels to drain. Cool and roughly chop.

Combine the lemon juice, dijon mustard, anchovy fillets, and a ¼ cup of grated parmesan cheese in the bowl of a food processor. Squeeze all of the roasted garlic out of the skins into the bowl. Pulse to combine. With the processor running, slowly drizzle in the olive oil and white balsamic vinegar. Season with salt and lots of freshly cracked black pepper to taste.

Roll the kale leaves tightly lengthwise and cut the kale into ¼" slices. Place them in a large mixing bowl, along with a generous spoonful of the dressing. Toss well and "massage" the kale for about 30 seconds. Let sit for 10 minutes.

Meanwhile, heat a large skillet over medium heat. Coat the bottom with a generous amount of olive oil. Add the torn bread. Let toast for a few minutes until golden and crisp on all sides, stirring often. Season with a pinch of salt and let the croutons cool slightly.

Cut the romaine into ¼" slices and add to the kale, along with the remaining dressing. Toss for about 30 seconds to allow the romaine to soften slightly. Toss in the bacon, croutons, and remaining ¼ cup of grated parmesan.

Serve the salad on a platter with the parmesan shavings and more freshly cracked black pepper over top.
Enjoy!