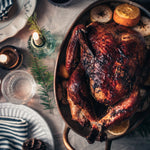 Chile and Orange Glazed Turkey 
Ingredients
Red Chile and Orange Glazed Turkey

1 c.

 

unsalted butter (2 sticks), at room temperature

Kosher salt and freshly ground black pepper

Red Chile and Orange Glaze

Turkey Brine

1/4 cup White Balsamic Vinegar

1/2 c.

 

whole-grain or Dijon mustard

Red Chile and Orange Glaze

2

 

(2-ounce) bags dried New Mexican red chiles, stemmed, seeded

 

4 tbs Blood orange extra virgin olive oil

Kosher salt
Instructions:
Brine turkey for 24 hours: Bring 3 quarts water to a boil in a large pot. Stir in sugar and salt until dissolved. Add vinegar, bay leaves, White balsamic vinegar and peppercorns and remove from heat. Add ice to cool the mixture. Stir in mustard until dissolved.
Remove turkey from brine and pat dry thoroughly with paper towels. Discard brine.
Preheat oven to 375°F with the rack in the lowest position. Place turkey in a roasting pan fitted with a rack. Loosen the skin and rub butter underneath and on the outside of the skin, dividing evenly. Season with salt and pepper. Roast for 30 minutes.
Reduce oven to 325°F and roast 1 1/2 hours. (Tent breasts with oiled aluminum foil if they become too dark.)
Make glaze: Preheat oven to 350°F. Place chiles on a rimmed baking sheet. Roast until slightly dried and toasted, 8 to 10 minutes. Transfer to a bowl and cover with water; cover bowl with plastic wrap. Soak until soft, turning once, 30 to 35 minutes. Reserve 3/4 cup soaking liquid; drain chiles. Blend chiles and reserved liquid, in batches, until smooth, 1 to 2 minutes. Strain into a large saucepan, pressing to release as much liquid as possible. Add cocoa powder, oregano, onion, bay leaf, garlic, lemon juice, blood orange olive oil, and 1/4 teaspoon salt.
Bring to a boil over medium-high heat. Reduce heat and simmer, stirring often, 20 minutes. Cool completely. Strain through a fine-mesh sieve; discard solids. Meanwhile, cook orange juice in a medium saucepan over medium heat until thick and syrupy, 20 to 30 minutes. Whisk in reserved red chile sauce, 1 tablespoon at a time, until smooth and thick. Remove from heat.
Continue roasting, glazing twice with Red Chile and Orange Glaze, until an instant-read thermometer inserted in thickest part of thigh registers 165°F, 25 to 30 minutes.
Gently tilt turkey to release juices from cavity into the pan. Transfer turkey to a cutting board; rest at least 30 minutes before carving.
Scrape browned bits from bottom of the pan and transfer, along with pan juices, to a large straight-sided skillet; reserve.
Enjoy!