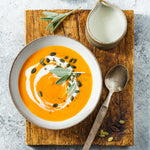 Creamy Maple and Vanilla Fig Brie and Cheddar Apple Soup with Walnut-Oat Granola 
Ingredients
1 tablespoon Herbes De Provence extra virgin olive oil
1 onion, diced
2 cloves garlic, chopped
1 teaspoon thyme, chopped (or 1/2 teaspoon dried thyme)
2 cups

 

chicken broth

 

or

 

vegetable broth

 

or

 

ham broth
2 cups apple cider
6 large apples, peeled, cored and diced
3 teaspoon vanilla fig balsamic vinegar
2 tablespoons maple syrup (or brown sugar)
1 cup aged/sharp cheddar cheese, shredded
8 ounces brie, sliced
salt and pepper to taste
6 tablespoons unsalted butter
1/4 cup flour
1/4 cup brown sugar
1/4 teaspoon salt
1 teaspoon cinnamon
1 cup old fashioned rolled oats
1 cup walnuts, coarsely chopped
Instructions:
For the soup:

Heat the Herbes De Provence extra virgin olive oil in a pan over medium-high heat, add the onions and cook until tender, about 3-5 minutes.

Add the garlic and thyme and cook until fragrant, about a minute.
Add the broth, cider and apples, bring to a boil, reduce the heat and simmer until the apples are tender, about 20 minutes.

Add the vanilla fig balsamic vinegar, maple syrup, cheddar and brie and cook until the cheese has melted, about 5 minutes.

Puree the soup in a blender and optionally strain any bits of brie that may remain before seasoning with salt and pepper before enjoying!

For the granola:

Pulse the butter, flour, sugar, salt and cinnamon in a food processor until grainy.
Mix in the rolled oats and nuts with your hands until they clump up before spreading in a single layer on a baking sheet.

Bake in a preheated 375F/190C oven until lightly golden brown, about 10-20 minutes, mixing every 5-10 minutes, mixing every 5 minutes.
Enjoy!