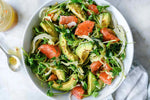 Avocado Fennel Salad with Grapefruit and Lavender Balsamic
Ingredients:
1 fennel bulb

1 avocado

2 pink grapefruits 

2 handfuls lightweight greens such as pea shoots , baby spinach, or watercress

Shaved Parmegiano-Reggiano cheese

Citrus dressing

1/4 cup fresh squeezed grapefruit juice

1 tablespoon minced shallot

1 teaspoon grainy brown mustard

1/2 teaspoon kosher salt

Freshy ground black pepper
Instructions:
Combine the fennel, avocado, grapefruits and greens in a large salad bowl. Drizzle with 3-4 tablespoons of the citrus dressing and season with the salt and pepper. Adjust seasoning and top with the shaved pieces of the Parmesan.

For the Dressing add all of the ingredients to a jar with a fitted lid.
Close the jar and shake well. Add more Lavender Balsamic Vinegar as desired.