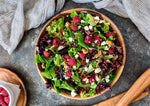 Baby Lettuce Salad with Raspberries, Feta, and Lavender Balsamic Vinegar
Ingredients:
5 ounces baby lettuce or spring mix

1 cup fresh raspberries washed and patted dry

1/3 cup dried cranberries

1/3 cup crumbled feta cheese

1/3 cup walnut pieces

2 teaspoons pure maple syrup

1 teaspoon dijon mustard

salt and freshly ground black pepper
Instructions:
Preheat the oven to 350 degrees. Place the walnuts on a rimmed baking sheet and toast for 8-10 minutes until golden brown and fragrant. Remove from heat and cool.

Place the lettuce, raspberries, cranberries and feta cheese in a large bowl. Set aside.

Place the Lavender Balsamic vinegar, maple syrup, dijon mustard, Rosemary olive oil, salt and pepper in a mason jar and cover tightly with a lid. Shake vigorously until emulsified.

Pour the dressing over the salad and toss well to coat. Top with the toasted walnuts, serve and enjoy!